The AIM High event recognizes faculty and staff across UCF who have made an effort to keep their required course materials affordable for students.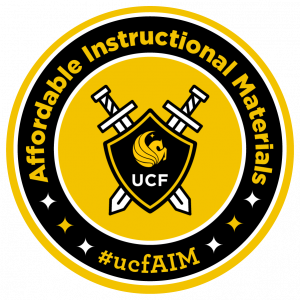 This event features a full program with guest speakers, awards, testimonials, and time to network and learn more about ways the university is collaborating to reduce and/or remove cost barriers to academic content.
AIM High is a result of UCF's Affordable Instructional Materials (AIM) Initiative — a program designed to generate cost savings for students by way of First Day (inclusive access) through the UCF bookstore and other low- and no-cost adoptions of publicly-available, openly-licensed and/or library-sourced materials. These efforts are also reported through Affordability Counts, a statewide shared repository of works used to identify courses that meet the low-cost definition of $20 or less per credit hour.
The AIM Initiative is a University-wide collaboration that includes the Division of Digital Learning, the UCF Libraries, the Division of Student Learning and Academic Success, the Faculty Center for Teaching and Learning (FCTL), the UCF Bookstore, and, of course, YOU, the faculty, staff, and students who make it all possible.
UCF AIM from Video@CDL on Vimeo.
Registration & Program
The 2021 Event has now concluded. Details and registration for the 2022 AIM High event will be posted here as soon as they are available.
---
Learn More About AIM
The below links include flyers about AIM that can easily be saved to your computer or shared with fellow colleagues. The flyers briefly describe the AIM Initiative, its pillars, and areas of interest regarding affordable instructional materials.
For questions about the AIM High event or the AIM Initiative, please contact
affordable@ucf.edu
.
---
Awardees
AIM High Impact Award
The AIM High Impact Award recognizes an individual or a group of individuals who have made a significant impact and commendable efforts towards affordable instructional materials. The award guidelines are flexible in nature in order to equally recognize faculty from across the university who teach various levels and class sizes.
2021 AIM High Impact Team Award and 2021 AIM High Impact Individual Award Recipients
UCF Physics faculty testimonial videos by Zhongzhou Chen and Thomas Brueckner which were played during the event are available to view on the AIM Impact Team Award link.
2020 AIM High Impact Award Recipients
First Day
The First Day program allows faculty members to work with commercial publishers and other for-profit entities to set an agreement with Barnes & Noble to offer discounted pricing on their course materials. Students may choose to "opt-in" to receive their course materials at the discounted price in their Webcourses@UCF course before the Drop/Add period each semester. Faculty who have participated in the First Day program during the previous calendar year are recognized during the event.
List of 2021 Event First Day Awardees
List of 2020 Event First Day Awardees
Affordability Counts
Faculty who have submitted to Affordability Counts during the previous calendar year are also recognized at this event. Affordability Counts is a program that recognizes faculty who have taken steps in making their course materials affordable. If the total cost of the instructional material(s) is less than or equal to $20 per credit hour (per course), the Affordability Counts medallion will be given to the faculty to place on their course home page, syllabus, or wherever they prefer, and their course will be added to the list of low-cost courses on the Affordability Counts website.
List of 2021 Event Affordability Counts Awardees
List of 2020 Event Affordability Counts Awardees
Library-Sourced Materials
Replacing your course textbook using e-books from UCF Libraries is a great way to include affordable instructional materials into your course. These e-books are free to students, allow unlimited usage, and familiarize students with the UCF Library resources. Faculty who have implemented library-sourced materials into their courses during the previous calendar year are also recognized at this event.
List of 2021 Event Library-Sourced Materials Awardees
Open Educational Resources (OER)
The faculty who have used open educational resources (OER) and offered students a zero-cost course materials experience during the previous calendar year are also recognized at this event. OER is a great way to reduce the cost of instructional materials by using publicly-available resources, such as OpenStax, or allowing a faculty member to create their own open resources for students and fellow colleagues to access.
List of 2021 Event OER Awardees
Orange Grove Collection
In 2019, five UCF faculty members participated in the Complete Florida Challenge Grant to create their own open educational resource and were recognized during the 2020 AIM High event. Thanks to the Creative Commons licenses, their openly-licensed works are available to the public and were previously housed on The Orange Grove: Florida's Open Educational Resource Repository. These works can now be found on UCF Pressbooks. The Orange Grove Collection is an example of one of the many ways faculty can adopt, create, and/or adapt their own zero-cost materials.