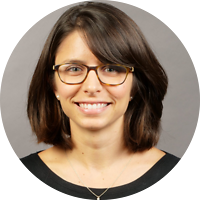 The inaugural 2022 Knights' Choice award winner is Julie Donnelly, a Lecturer in the Chemistry Department. She was nominated by her Teaching Assistant (TA) for her efforts to offer opt-in materials and seek methods that allow for cheaper course materials for her students. She was selected because of her ongoing dedication to reducing the cost of course materials as well as her participation in the First Day® program.
Noticing that students weren't buying the required textbooks, Julie realized the course of her course materials was too high. As textbooks are one of the most valuable resources for her course, she decided to seek ways to make them more accessible. After communicating with others in her department, she decided to adopt First Day®, allowing students to opt-in for course materials. Since adoption, she has noticed that more students are buying textbooks which allows them to have access to practice problems and in turn improve their performance.
Julie's TA, Alondra Gittelson, had this to say regarding her efforts:
"The professor offers opt-in materials and allows students to buy Learning Catalytic separately from Pearson so they can save money, even though doing this method is a lot more work for the professor and she has to make excel spreadsheets to manually upload grades. She takes the time to ensure students can afford class materials and reduce the costs. If a student cannot afford the books, she tells them to email her so they can figure out a plan.

"I have been her TA for a year and a half and have seen how she works hard for her students and wants them to succeed in her class. She is probably one of the most caring professors I have had, and I love to work with her."
Currently, Julie and others in her department are working with the Center for Distributed Learning (CDL) to eliminate the cost of course materials in introductory chemistry courses. With funding from the Pegasus Innovation Lab's Course Redesign Initiative, Julie has made use of free textbooks and a platform called Pressboooks that has allowed her to create an e-text for introductory chemistry courses at UCF. Julie hopes these resources will not only help UCF students, but those at other institutions as well.