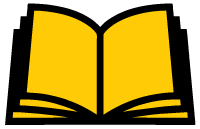 Zero-cost materials constitute any variety of educational content that has no direct cost to students, removing barriers to access and improving students' opportunities for academic success.
A subset of UCF-specific data (n=4,800) from the FLVC 2018 Student Textbook and Course Materials Survey revealed roughly 53% of UCF students reported not purchasing their required textbook(s) due to cost and roughly 20% felt they earned a poorer grade as a result.
The Division of Digital Learning has, therefore, teamed up with a variety of stakeholders from across campus to facilitate zero-cost materials adoption, creation, and adaptation.
What Are Your Options?
ADOPT open access/freely available content through the web, or search the UCF libraries for eBooks or materials available for free to current UCF students and faculty.
CREATE openly-licensed or proprietary content and offer it to your students at no cost. There are a number of platforms through which you can author educational content, including UCF Pressbooks, Canvas (i.e., Webcourses@UCF), and even Microsoft Word.
ADAPT instructional materials by remixing pre-existing openly-licensed content. The platforms mentioned above can all be used, as well as a platform called LibreTexts, which has an advanced 'Remixer' that makes this undertaking much easier than ever before.
Where can you find zero-cost materials?
To begin your search, take a look at the following resources:
Who Can You Contact for Further Support?
How Can You Become Part of the Heroes-for-zeroes Family?
If the contents of this webpage have inspired you to more deeply consider how you might contribute to student success through providing equitable access to your instructional materials, please reach out to either Jim at James.Paradiso@ucf.edu or Lily at lily@ucf.edu to have a follow-up conversation.
What's Next?
Once you've found the right zero-cost materials for your course, consider submitting it to Affordability Counts — a Florida statewide initiative centered on recognizing faculty for their efforts to make learning materials more affordable for students. Upon having your course accepted, you will receive a medallion and get your course listed among other no-/low-cost courses across the state university and college systems of Florida.