We Are No Longer Accepting Proposals at This Time
The proposal submission due date has passed. We are no longer accepting proposals at this time.
This gathering is intended to bring together higher-education scholars and practitioners to share innovative research, projects, and practices in digital learning as well as promote opportunities for collaboration and networking. This one-day event will feature sessions designed to encourage interaction and engagement and is hosted by UCF's Pegasus Innovation Lab (iLab).
Call for Proposals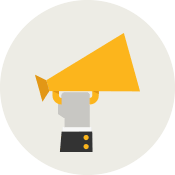 We invite you to submit proposals for the Florida Online Innovation Summit 2019. We seek proposals for interactive sessions on innovative practices, projects, and related research. Proposed sessions will be targeted to online administrators, design thinkers, faculty, instructional support, training professionals, technologists, and researchers. Participants from all sectors of higher education are encouraged to submit proposals. Proposals are not limited to institutions in the state of Florida.
Conference Tracks
The Summit will be divided into two tracks: Innovative Projects and Research.
Innovative Projects – highlight innovative practices and pilot programs.
Research – present empirical models and findings from research conducted on innovative practices you've implemented at your institution.
All breakout sessions are 45-minutes. They may be designed as either a presentation or panel session.
Key Dates
Submission Deadline:  Now closed
Acceptance Notifications:  Mid-January 2019

Proposal Requirements
You will need to provide the following information on your proposal:
Proposed Title – Make it provocative and compelling!
Presenter(s)

Primary Presenter
Others Presenters

Abstract (50 words)
Description (500 words)

What problem/need were you addressing?
What makes it innovative?
How has it impacted your campus?

Session Format
Target Audience

Administrators
Faculty
Instructional Designers
Researchers
IT Professionals
Process
Applicants will be notified and advised of next steps by January 2019.
Interested in being a proposal reviewer? Contact Wendy Howard at ilab@ucf.edu.