Call for Proposals: The Call for Proposals will be announced September 6th. Stay tuned! Please contact iLab@ucf.edu for any questions or concerns.
The Florida Online Innovation Summit Returns to UCF Campus!
We look forward to being in person again for the 2023 Summit! We want to thank the participants and presenters of the 2022 event.
The Florida Online Innovation Summit is an opportunity to share and discuss projects that are being implemented across the state to advance the state-of-the-art in online learning. These are projects that seek to push the boundaries of current technology and practice in order to disrupt existing models and positively impact the constraints of the "iron triangle" of quality, cost, and access for students. Examples of potential innovative and experimental project categories include:
Adaptive Learning
Microcredentials / Digital Badges
Next Generation ePortfolios
Predictive Analytics and Dashboards
MOOCS for Credit
eText and Digital Materials Strategies
Competency-Based Learning
Immersive Video Environments
Creative Use of Open Source Materials
Learning Analytics
Content Repositories for Sharing Digital Resources
3rd Party Tool Integrations
VR, AR, XR
Synchronous Tools and Pedagogy
Emergency Remote Strategy Innovations
Makerspace Resources
The Agenda
Thursday, March 30, 2023
8:30am – 9:00am EDT ~ Registration & Continental Breakfast
9:00am – 9:10am EDT ~ Welcome Address
9:10am – 10:00am EDT ~ Keynote Address
10:10am – 11:00am EDT ~ Concurrent Session 1
11:10am – 12:00pm EDT ~ Concurrent Session 2
12:00pm – 1:00pm EDT ~ Lunch
1:10pm – 2:00pm EDT ~ Concurrent Session 3
2:10pm – 3:00pm EDT ~ Concurrent Session 4
3:10pm – 4:00pm EDT ~ Closing Panel
4:00pm – 5:00pm EDT ~ Networking Event
Click below to view last year's program. The 2023 program will be added as soon as it is available.
Download 2022 Extended Program
---
Keynote Speaker
Stay tuned for more information about this year's Keynote Speaker!
---
Closing Panel
Stay tuned for more information about this year's closing panel and theme!
---
Registration Information
Registration: Registration for the 2023 Innovation Summit will open Tuesday, September 27th. Please contact the iLab@ucf.edu if you have any concerns about your registration.
We encourage your attendance to both the Innovation Summit and TOPkit Workshop. Registration is free for all State University System of Florida & Florida College System participants.
Registration Opens: September 27, 2022
Registration Deadline: March 10, 2023
Early Bird Registration Cutoff: January 27, 2023

Early bird pricing until January 27th – $30 at checkout
General registration price after January 28th – $50 at checkout

The Innovation Summit is open ONLY to Faculty, Staff, and/or Administrators.
The Innovation Summit and TOPkit Workshop have separate registration processes.
Once you have registered, you will receive future email communications about the event.
Use the widget below (once added after registration opens) to register for the event. You may need to use the scroll bar to access the "Get Tickets" button to proceed with registering for the event.
---
Call for Proposals
The Call for Proposals will be announced September 6, 2022. Please view the proposal guidelines for more information.
Proposal Guidelines
---
Important Location Information
The Florida Online Innovation Summit is returning to face-to-face this year and will be held at the University of Central Florida. Please find important location and parking details below.
Map/Directions
UCF Fairwinds Alumni Center: 12676 Gemini Blvd. N., Orlando, FL 32816-0130
View Map
Parking
Parking for the Innovation Summit will be available in Parking Garage D. Attendees will be emailed a parking permit to place in their car, and parking will be on level 1 of Garage D. Upon exiting Garage D, walk across Memory Mall (the grass walkway) towards the Fairwinds Alumni Center.
Hotel Recommendations
The recommended hotel is the Celeste Hotel. (A reservation booking link will be added soon). However, the DoubleTree by Hilton Hotel Orlando East-UCF and other alternatives are available.
---
Photo Albums & Previous Agendas
2021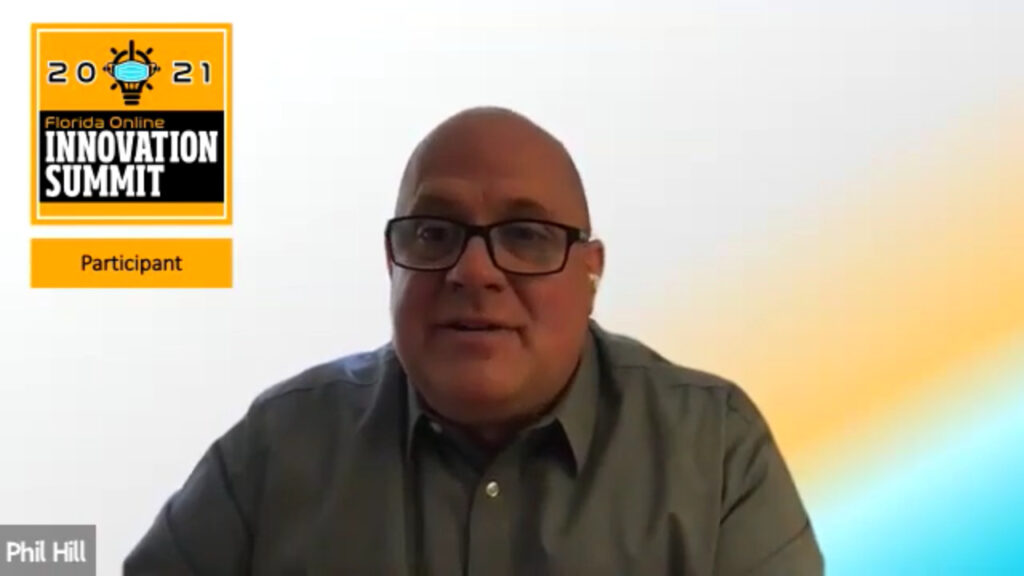 2021 Agenda
2019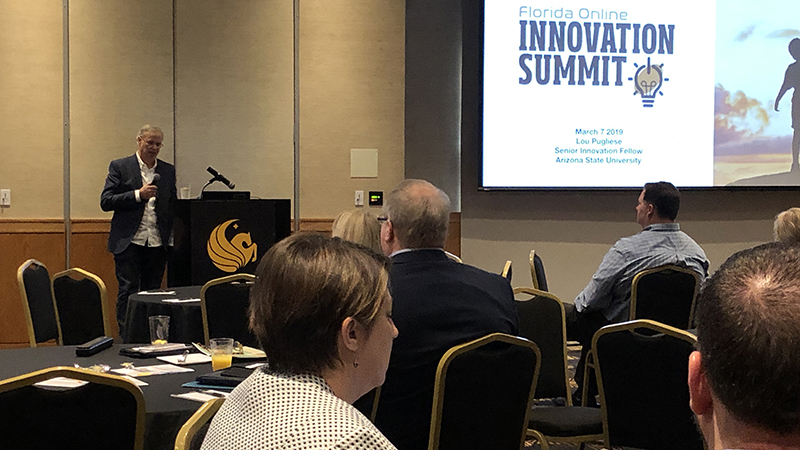 2019 Agenda
Summit Planning Committee
Wendy Howard (UCF), Beth Nettles (UCF), Anita Gabbard (UCF), Nicole Stahl (UCF), Samantha Richardson (UCF), Tina Calandrino (UCF), and Rocco Fazzalari (UCF).
Questions, Concerns, or Special Requests? Please feel free to reach out to the Pegasus Innovation Lab at: iLab@ucf.edu
TOPkit
The Innovation Summit and the TOPkit Workshop occur in sequential weeks so participants can benefit from attending both events. The Teaching Online Preparation Toolkit (TOPkit) is a comprehensive resource for those who are responsible for faculty development, including those who develop relationships with faculty to ensure quality online or hybrid courses. Although TOPkit is Florida funded, it has an international reach. The site is organized by a three-step process for planning, developing, and evaluating your program, along with supporting resources. We invite you to explore TOPkit resources and participate in upcoming events.
Stay Connected – Sign Up for Updates & Announcements
Sign up to receive important updates and announcements for upcoming Florida Online Innovation Summits.