We look forward to the 2021 Summit! We want to thank the participants and presenters of the 2020 event.
The Florida Online Innovation Summit is an opportunity to share and discuss projects that are being implemented across the state to advance the state-of-the-art in online learning. These are projects that seek to push the boundaries of current technology and practice in order to disrupt existing models and positively impact the constraints of the "iron triangle" of quality, cost, and access for students. Examples of potential innovative and experimental project categories include:
Adaptive Learning
Microcredentials / Digital Badges
Next generation ePortfolios
Predictive analytics and dashboards
MOOCs for credit
eText and digital materials strategies
Competency-Based Learning
Immersive Video Environments
Creative use of open source materials
Learning analytics
Content repositories for sharing digital resources
Florida Online Innovation Summit – Photos and Agendas
2020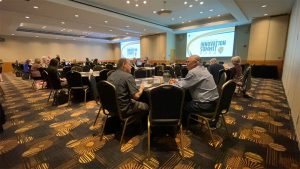 2019
TOPkit
The Innovation Summit and the TOPkit Workshop occur during the same week so participants can benefit from attending both events. The Teaching Online Preparation Toolkit (TOPkit) is a comprehensive resource for those who are responsible for faculty development, including those who develop relationships with faculty to ensure quality online or hybrid courses. Although TOPkit is Florida funded, it has an international reach. The site is organized by a three-step process for planning, developing, and evaluating your program, along with supporting resources. We invite you to explore TOPkit resources and participate in upcoming events.
Summit Planning Committee
Wendy Howard (UCF), Beth Nettles (UCF), Anita Gabbard (UCF), Linda Futch (UCF), Patsy Moskal (UCF), Nicole Stahl (UCF), and Samantha Richardson (UCF).
Questions, Concerns, or Special Requests? Please feel free to reach out to the Pegasus Innovation Lab at: iLab@ucf.edu